Arctic North offers Alaska Grizzly Bear Hunting Guides. Alaska is home to 80% of the brown/grizzly bears. The term grizzly bear is often used in reference to brown bears. The difference between the two is defined by the location in which they inhabit, SCI does this by game management area and B&C us the 62nd parallel. Our camp located in western Alaska is within the SCI boundaries for grizzly bears while our Peninsula area has all brown bears.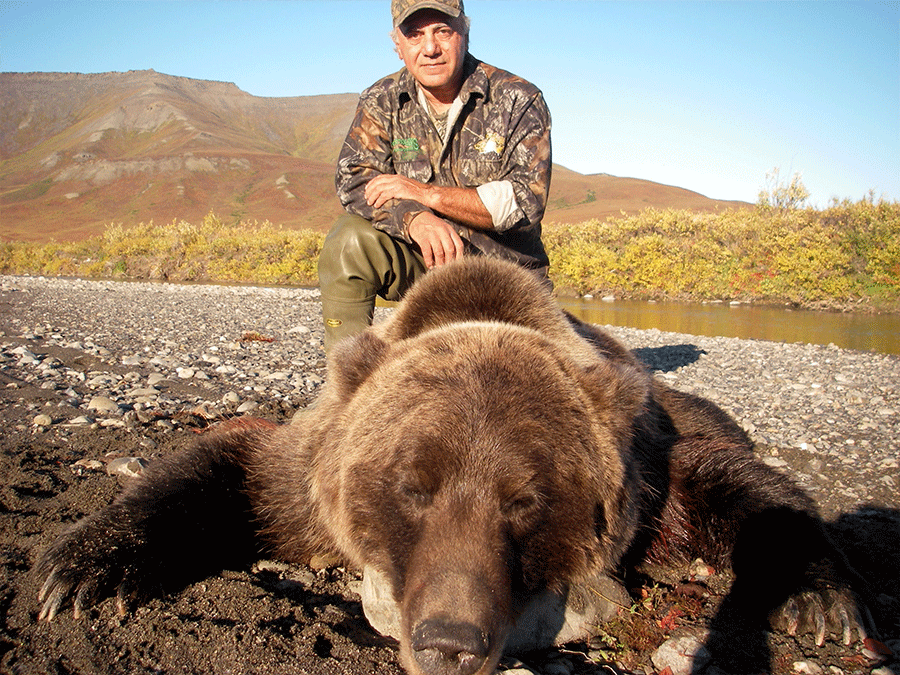 Alaska Grizzly Bear Hunting
We hunt for Grizzly bears out of our Western Alaska camp in both spring and fall. Our fall hunts can be combined with moose hunting. During the spring season we are hunting with snow machines and snow shoes. Fall hunts are based out of tented spike camps and the spring hunts are based from our main camp. Our biggest bears come during the spring and we have many bears in the record book from this area. Both spring and fall hunts are very low volume and very high success.
HUNT SCHEDULE
SPRING SEASON
April 20 – April 30
FALL SEASON
September 1 – September 10
Grizzly bears are found throughout Alaska except on the islands south of Frederick Sound in southeastern Alaska, the islands west of Unimak in the Aleutian Chain, and the islands of the Bering Sea. Except for breeding pairs and females with offspring, bears are typically solitary creatures and avoid the company of other bears. Exceptions occur where food sources are concentrated such as at streams where bears can catch salmon swimming upstream to spawn
Spring Alaska Grizzly Hunts
The long days and warming temperatures of April start to bring the bears out of hibernation. Our spring Grizzly hunts take place in the Alaska Range where we spend our time glassing the hillsides for bears that are coming out of there dens. We use snow machines and super cubs on skis to move our camps into prime areas. These bears will average 8-9 feet square. The hides are prime this time of years as the bears are just waking up and have not rubbed their winter coats off yet.
This is the time of year when winter's veil is slowly being pulled away. The landscape is still covered with a white blanket of snow and the bears are just waking up from their lengthy hibernation.
Travel during this time of year requires skis on the Super Cub and the frequent use of snow machines. Time is spent glassing the hillsides in search of bears just exiting their dens. Grizzly hunts at this time of year are a unique experience, as the stark beauty of the winter landscape can still be glimpsed. Bears at this time of year still possess their winter coat, meaning hide's are in their prime.
Fall Alaska Grizzly Hunts
During September in Western Alaska, grizzly hunts are at peak. As the banks of streams thrive with thick stands of wild berries, the interior grizzlies wander down the hillsides to claim their share. This is the annual fall feast that fuels these giants for the winter, and there can be little wonder why it makes for some of the finest bear hunting found anywhere. Our fully-licensed Alaska grizzly bear hunting guides take you there with unmatched skill and expertise.
It is during these two months that our grizzly hunts take place. These trips are ten days in length and can be customized to your particular desires and needs. You will travel by Super Cub, landing within the stark, primeval tundra landscape the grizzlies calls home. From our camp, you and your guide will scope the riverbeds and hillsides in search of foraging bears. These grizzly bears are known for their large size, and the color and quality of their hides.